Field Stories
CfW Improves Living Conditions of Al-Sofyah Villagers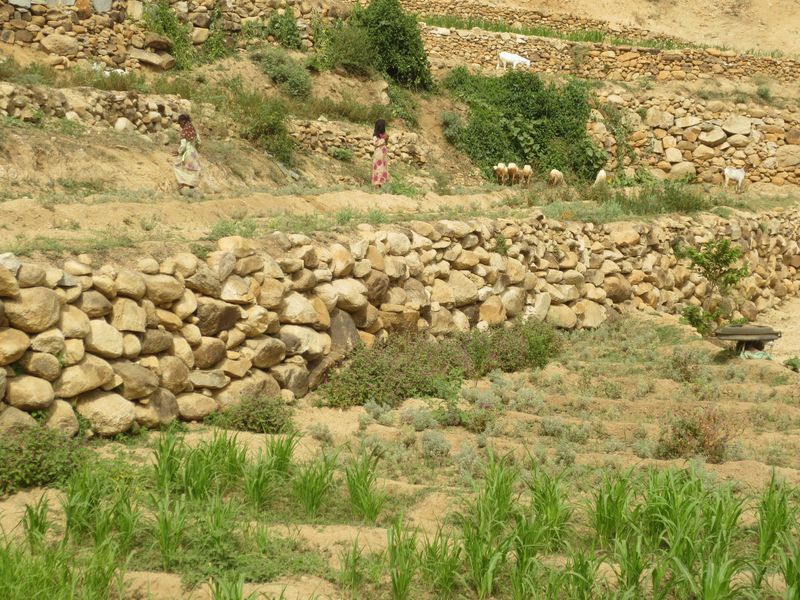 Administrative division of the target area: Al-Sofyah village - the isolation of the Far East Mstaba - Mstaba Directorate - Hajjah province.
Al-Sofyah is a poor village that depends on agriculture, with some villagers depending on cultivation and sale of aromatic plants, and others relying on daily wages earned in local markets or as well as migration to neighboring countries.
Recently, the villagers' suffering has intensified, mainly after the events of 2011, which have a negative impact on the employment opportunities, not to mention the lack of jobs in neighboring countries, leading to a rise in poverty and the inability of households to buy basic foodstuffs.
The SFD supported Cash-for-Work Program implemented a project with an estimated cost of $ 193.824 consisting of several interventions in rehabilitation of water wells and rehabilitation and reclamation of agricultural terraces. The project targeted 276 households and generated about 21,326 temporary jobs for males and 1,338 others for females.
Households benefited of the Cash for work program interventions with a long-term economic impact. A study was conducted after the intervention and reported that 80% of the beneficiary households used the money gained from working in the program to purchase basic foodstuffs. In infrastructure, interventions have contributed to increasing productivity of farmers and almost doubled profits gained. (The following table shows some remarkable results before and after the intervention)
| | | | | |
| --- | --- | --- | --- | --- |
| Beneficiary Name | Cultivated area before intervention (square meters) | Earnings before intervention (YR) | Cultivated area after intervention (square meters) | Earnings after intervention (YR) |
| Osam hassan Eqram | 500 | 200,000 | 560 | 400,000 |
| Yahya Teraz Al-Sofy | 300 | 150,000 | 324 | 300,000 |
| Hesham Abdo | 0 | 0 | 150 | 90,000 |
| Ahmed Hassan | 0 | 0 | 600 | 210,000 |
| Ismaeel Ahmed Qa'aban | 0 | 0 | 500 | 500,000 |
| Yousef Ali Mohammed Jaber | 300 | 150,000 | 300 | 300,000 |
The following table shows the crops grown by villagers and benefit from returns of selling them either in local markets or by exporting to Saudi Arabia:
| | |
| --- | --- |
| Plant | Price (YR) |
| Roses | 50 to 100 |
| Mashaqer (package) | 300 to 500 |
| Marjoram (package) | 300 to 500 |
| Mint (package) | 300 to 500 |
| Chamatri (package) | 300 to 500 |